If you want to find out how a trading platform works, a demo account is a great idea since it will allow you to explore the platform without risking any real money. With a demo account, you trade using play money. A demo account can also be a great way to test out various trading strategies without losing any real money.
Do I need to register?
While some trading sites and platforms allow you to play around even without registration, they are the exception. The norm is that you need to create an account, typically by providing the company with your name, location and email address (at minimum). You will also need to confirm the email address to prove it is yours.
Why is it good to use a demo account?
You can learn a lot about a trading platform by exploring it from the safety of a demo account. Here are a few examples.
Is the platform easy to navigate? Does it suit you? Can you adjust it to make it better for you specifically?
Does the platform work well on your device and with your internet connection?
How's the assortment of tradables? Does it contain what you want? Is it easy to find exactly what you are looking for?
How do I open and close positions, apply stops and limits, and do other trading-related tasks?
What happens if I follow this particular trading strategy?
What are the tools for technical analysis, charting, etc? Easy to use? Suitable for my needs?
Do I get access to compiled information about my past trades? Analysing your own historical trades can be a great way of improving as a trader.
Do I like the way the news feed works, and does it contain useful information?
Is there a watch-list feature?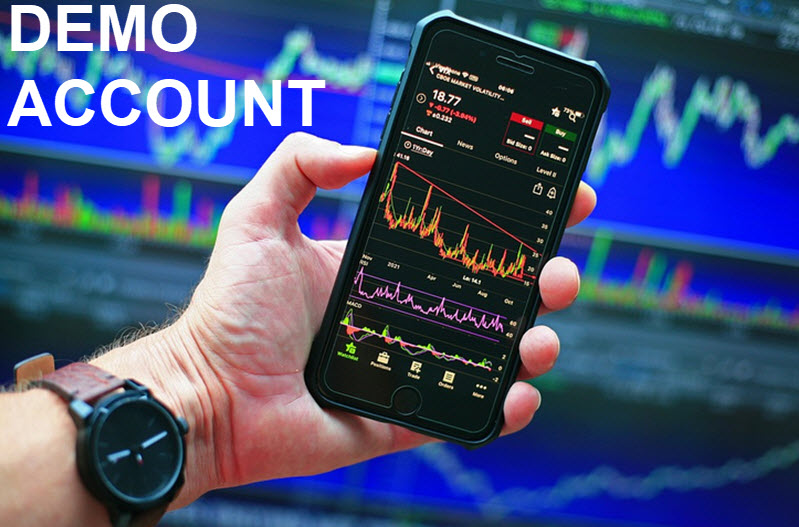 Drawbacks
The following points are important to keep in mind when you use a virtual trading account to explore a trading platform.
No slippage
When you trade in your demo account, you can typically expect a market order to be filled at the price shown on the screen. With a real-money account, there will be slippage, and your order might not be filled at the expected price. This difference can be very annoying when transitioning from a demo account to a real-money account.
Deal rejection
When you trade in your demo account, trades will always (or nearly always) go through as requested. When you trade in your real-money account, you will probably run into rejections and re-quotes once in a while, e.g. because of price changes taking place between submission and execution.
Too big for your breeches
When you open a demo account, you typically get A LOT of play-money or even an unlimited supply of play-money. Unless you restrict this somehow, you will be testing out the platform while having much more money to throw around than you will with your real-money account. This in turn can lure you into developing trading strategies that simply wont work in your real-money account, because you don't have enough of a real-money bankroll to handle the swings and survive prolonged rough patches. You may also grow attached to certain instruments that you simply can not afford to purchase with your real money, such as high-priced company shares.
Beware of incorrect spreads
Some trading sites have tighter spreads for demo accounts to lure in clients.
Are these tools really free?
Some trading sites give their demo account users access to the whole platform, including specialized trading tools, since they want them to be able to test everything. This is of course a great thing, because you want to know as much as possible about what's available to you before you make your first deposit. However, you should always make the effort to find out if these tools and other great perks will be available for free with your real-money account as well, or if it is something that real-money account traders have to pay extra for.